"Ueno Station in Tokyo is a vital transportation hub, known for its historical significance, cultural attractions, and excellent connectivity. With its architectural grandeur and rich heritage, Ueno Station embodies Tokyo's vibrant soul, seamlessly blending modern efficiency with the essence of Japanese culture.
Ueno - Current Weather
7:25 am, December 10, 2023
7°C
Wind: 6 Km/h
Sunrise: 06:51
Sunset: 16:44
Cultural Insights
Ueno Station holds a profound cultural significance, as it is situated near the renowned Ueno Park, which houses some of Tokyo's most prestigious museums and cultural institutions. The Tokyo National Museum, located within the park, boasts an extensive collection of art and historical artifacts, making it a must-visit for history enthusiasts and art connoisseurs alike. Additionally, the Ueno Toshogu Shrine stands as a testament to Japan's Shogunate legacy, featuring ornate architecture and providing a serene space for spiritual reflection. Situated in Tokyo's Taito ward, this bustling station serves as a gateway to a world of cultural exploration and adventure.
Nearby Attractions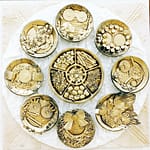 Ueno Park: Explore the serene Ueno Park, especially during cherry blossom season when it transforms into a picturesque wonderland.
The Tokyo National Museum: Situated in Ueno Park, not far from Ueno Station, the Tokyo National Museum is one of Japan's oldest and most prestigious cultural institutions. It is the largest and oldest museum in Japan, boasting an extensive collection of art and historical artifacts.
Tokyo Metropolitan Art Museum: This museum features a rotating collection of contemporary and traditional Japanese art, as well as international exhibitions. The museum's unique architecture adds to the overall artistic ambiance.
Ameya-Yokocho Market: This bustling street market is a treasure trove of diverse products, from clothing and accessories to delectable street food. The lively banter of vendors mingles with the enticing aroma of sizzling street food, creating an immersive and lively atmosphere.
Culinary Delights
Ueno Station offers a delectable array of dining options, catering to all tastes and preferences. Whether you're in the mood for a quick and casual meal or an upscale dining experience, the station's vicinity has something to satisfy your culinary cravings. Don't miss the opportunity to savor local Tokyo specialties, including sushi, tempura, and ramen, at nearby restaurants and food stalls, each offering a unique culinary experience.
Events and More
Ueno Station is not just a transportation hub; it's a dynamic gateway to cultural treasures and diverse experiences. Ueno Park hosts a plethora of events and festivals throughout the year, ensuring there's always something exciting happening. From the enchanting cherry blossom festivals that transform the park into a sea of delicate pink petals to art exhibitions showcasing Japan's artistic heritage and traditional cultural celebrations, Ueno has a rich calendar of events that cater to every interest.
Shopping Experiences
Within the station complex, numerous shops and boutiques provide a convenient opportunity for travelers to pick up souvenirs and gifts that encapsulate the essence of Tokyo. Additionally, Ameya-Yokocho Market, located in close proximity to Ueno Station, offers a shopping paradise for those seeking a diverse range of goods, from fashion items to unique and quirky trinkets.
Accommodations
For travelers in need of accommodations, Ueno Station's vicinity offers a range of options to suit various preferences and budgets. Whether you're looking for a luxurious stay in a well-appointed hotel or a more budget-friendly lodging, there are plenty of choices within easy reach of the station to ensure a comfortable and convenient stay.
Transportation Hub
Ueno Station stands as a pivotal transportation hub with excellent connectivity, serving a multitude of train lines, including the high-speed Shinkansen (bullet train) lines. This connectivity not only ensures easy access to Tokyo's vibrant heart but also links the city to other significant destinations, both within Japan and internationally. Cities such as Kyoto and Osaka are easily accessible, making Ueno Station a crucial starting point for travelers exploring Japan.
Accessibility and Travel Tips
Download Tokyo Metro Map (PDF)
Ueno Station is accessible via various train lines, including the JR Yamanote Line and Keihin-Tohoku Line.
The station features clear signage in multiple languages to assist travelers.